Living as an autistic woman myself, I provide clinician support, industry support, individual, group & family coaching support as well as motivational speaking, group education, and group coaching.
I provide coaching to anyone needing education about life as an autistic person, whether they have a direct or indirect relationship, professional, clinical, personal, familial relationship with autism, or to just provide knowledge to the curious.
Individual & Family Coaching Services
I am a Master of Social Work student at Rutgers University with a bachelor's in both Psychology and Philosophy. While I am not a doctor of any kind, I am informed by research, years of crisis intervention experience, traditional clinical social work, teaching, and general work with people with disabilities (especially ASD) professionally, and my own experience.
While I view autism as a gift, it can also come with challenges that may impede the gifts shining through. I know that it can be difficult living with someone different from you, but I also believe in setting families up to succeed and thrive happily, and plant seeds of hope for a bright future. I believe that anyone, with the right guidance, can lead a happy life.
No two people are alike, but I am able to relate well to the experience of being an autistic child because I was one. We grow strong either because of, or in spite of the trials we face as people with disabilities.
I will share my own experience and translate what behaviors are intended to communicate, and how to intervene effectively and compassionately in situations of emotional crisis, without getting overwhelmed yourself.
Disabilities can be tough to manage, and resources aren't always apparent, but what's tougher is going through it alone.
The Initial Consult Process
We will schedule a complimentary first-time call with you to learn about what you are going through, and we can decide if my services would be a good match. If I or you do not think ongoing or as-needed services will be useful, I will provide a referral to an agency that can better assist you. My goal isn't to receive money, this is a service to my community. I will not recommend my services unless I think it will be a good fit.
My Role, and Limits to My Role
I can serve as an advocate, mentor, social service broker, public speaker, and general educator about autism and other mental health problems. I can also coach and motivate people without autism. My other areas of expertise include domestic abuse and occupational concerns.
I utilize active-listening skills, and my training as a crisis counselor at Crisis Text Line to inform my work as a coach. I am not a licensed clinical counselor (yet!), thus I cannot yet provide therapy, though I will take an active role in listening to any concerns you have and take a combination of emotion-focused and solution-focused approach where needed. My role is to be an advocate for you and your child, and help educate you about the autistic experience from the perspective of an autistic adult and point you in the direction of services you might need, and empower you to meet your own needs and avoid caretaker burnout. I ask specific questions geared towards helping determine needs and learning about any history that still applies to the struggles in the present.
I talk with the child, adult, or young adult and get a sense of the struggles experienced by the young adult/child. I then share my observations with parents, caregivers, and spouses to improve the quality of relationships, to bridge understanding, and find resources. One-on-one time with the child or adult is geared towards building coping skills as related to a disability; utilizing helpful resources at school, home, and work, and help manage sources of stress, rather than focusing on symptoms.
I want to empower people to exist in the world as-is, and follow the trail of acceptance, rather than changing yourself. More on my philosophy can be found here.
In addition to autism/disability support, people with suspected/diagnosed mental health concerns, people with other health conditions, addiction sufferers, parents, domestic abuse survivors, the elderly, spouses, caregivers–and anyone else who feels they may benefit from a positive, enthusiastic support system is encouraged to reach out.
Goals of Coaching
Here's what we can build on together!
A stronger mutual understanding between you and your family member.
Less burnout for you. More time to spend doing what you love. More life. Less bitterness. Less caretaking. More motivation.
Better access and communication with other services (schools, therapists, social service agencies).
Networking for resources outside of coaching
To get to the point where you no longer need coaching!!
Coaching Services & Payment
Services are rendered locally in NJ, PA, & surrounding areas, or through phone, FaceTime, Skype, and other remote options. I do not take insurance, but I do not charge the fee a traditional counselor would. Initial phone consults are complimentary.
Motivational Speaking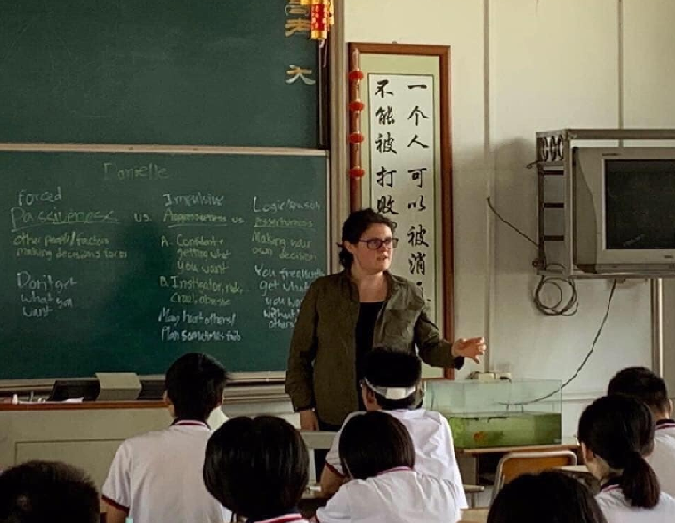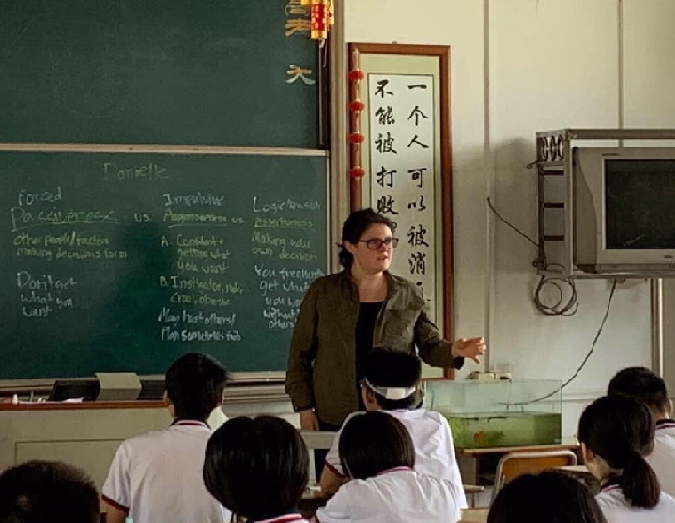 I have been a public speaker for more than six years, from all around South Jersey and the Philadelphia area to all the way in Guangzhou, China (see image on the right). I have a podcast/radio show on 91.5 WDBK about positive psychology, mental health, comedy, and social work.
The topics I cover include:
* Understanding what it's like to be autistic, and how you can be a supportive friend/coworker/family member/teacher/therapist/mentor/advisor
* Stress management
* What to do when ……
* "What does this mean?" and general autism education/Q&A
* Crisis Intervention Support
* Dialectical Behavioral Skills
* And more… (I can work with your needs!)
* How to effectively serve students who require accommodations; diversity & inclusion training
* Comorbid disabilities
* Living and thriving well (with or without a disability!) / general motivational speaking
I have been speaking and presenting in public since 2012. The basis of my work as a speaker is to educate professionals on autism-friendly service delivery, with respect to individual differences. I address police forces, social service agencies, classrooms, schools/colleges/universities (both special education and mainstream), and anywhere else my services can be provided. My contact email can be found at the bottom of this page.
Support Groups
For parents and/or children… currently being populated on Zoom… contact me if you have an interest.
Formal Training
* Suicide, Risk Assessment, & De-Escalation
* Dementia & Alzheimer's Sensitivity
* Autism & Related Conditions, Other Disabilities, Medical Health Impairments
* Supervising and coaching people with disabilities
-> Autism Speech on 91.5 WDBK
-> More about Danielle
—> Facebook Page (Contact for Contracting)
—> Stand-up Comedy Page
Last updated – July 23, 2020