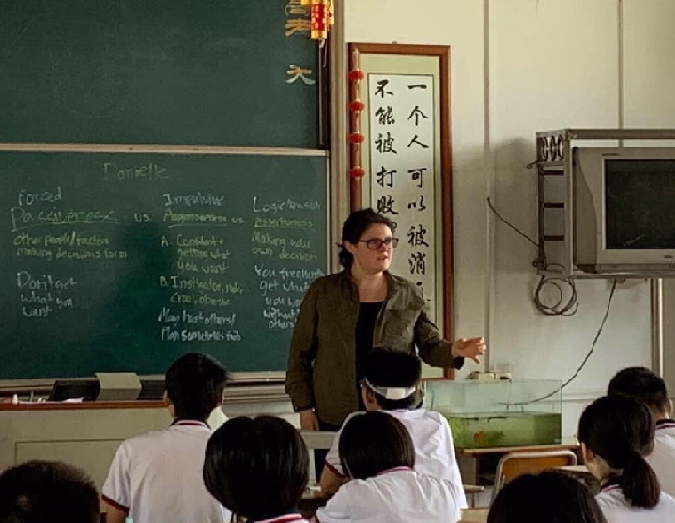 Danielle M. Ryer, MSW – Not the Stage "DR."!
My Professional Journey
I am an autistic woman and Master Social Worker. After an arduous journey filled with both joy and lessons, I obtained a Master of Social Work from Rutgers University, after obtaining two Baccalaureate degrees: one in Psychology and the other in Philosophy & World Religions from Rowan University. I seek to pass on my experiences as an autistic woman to provide a variety of services to the neurodivergent community (autism, ADHD, etc.), parents, family members, and professionals, to help increase global inclusion and help support individuals in their mental health and life goals. I've made mistakes and I've grown from them, and I love nothing more in life than giving back to the neurodivergent community and helping in ways that complement the work of therapists. In fact, although I am a license-eligible MSW, I do not have a clinical license, I do not provide clinical therapy at this time, and the work we do together will not be therapy. But I am a firm believer that therapy is necessary, and is an important complement to the work I do with my clients. I get my own therapy as well so that I can be the best support that I can be for you.
Helping You Find The Services You Need…
Even If I Can't Help You
For the initial intake session, I will virtually meet with you for 20-30 minutes to gauge what struggles you may be going through. While we explore, we will determine what roles may be appropriate for the scope of service I can directly provide. While I cannot personally guarantee that I will be the right fit to support you in all or any of your needs, I have a network of trusted professionals at the ready. It is my policy as a professional to refer to another professional, resource, or set of resources that I trust to meet the needs that you have, when available.
Parents deserve help understanding and advocating for their children. Children deserve to be shown the support they deserve. Employers deserve answers on how they can best help their employees. Schools deserve to know how to best help the 'brainy kid with behavioral struggles.' I was an autistic child once. I am highly professional and informed by both research and personal experience – I've been there! And I can help you create a personalized, comprehensive plan.
Where Do I Provide Services?
I provide video and phone support worldwide and can provide local support within the tri-state area (NJ, PA, NY) as well as other states, countries, and provinces for additional fees.
My Professional Philosophy
I have training as a therapist and crisis counselor through my graduate school experience. During my training, I realized therapy is essential, but many people who are seeking therapy aren't necessarily struggling with mental illness, but rather a high need for systemic support. A high need for support should not be pathologized. Maybe they have a child, and are struggling to understand the child's behavior. If more people were helped in gaining community support and having their needs assessed and met directly, there would be less stress on those who are neurodivergent or want to support neurodivergent individuals. For one, many parents would be less stressed if they were judged less, heard more about their child's meltdowns, were not blamed, were given hope, and were shown where they could get their needs met in areas that truly accept, understand, and embrace them and their child.
While I view autism as a gift, it can also come with challenges that may impede the gifts shining through. I know that it can be difficult living with someone different from you, but I also believe in setting families up to succeed and thrive happily, and plant seeds of hope for a bright future. I believe that anyone, with the right guidance, can lead a happy life.
No two people are alike, but I am able to relate well to the experience of being an autistic child because I was one, and am now an autistic adult. I believe we grow with autism, and grow strong either because or in spite of the trials we face as people with disabilities.
As a consultant, I give feedback on what certain behaviors communicate, and responses or interventions that can set the person and family up for success. I will share my own experience and translate what behaviors are intended to communicate, and how support systems can intervene effectively and compassionately in situations of emotional crisis, without getting overwhelmed in tandem.
I don't work to alter safe and healthy coping mechanisms, but rather to explain what type of support is needed in those cases. My goal is to help you or your family member advocate for their rights to exist in this world as-is and follow the trail of acceptance, rather than chiseling yourself to fit a mold.
What Services Do I Provide?
I provide a wide variety of services, anywhere from psychoeducation about autism, to personal assistance, neurodiversity-affirming childcare, family/elder care, staff training, college/academic planning for you or a loved one, assertiveness training, life coaching, dating coaching, and even event hosting; but the capacity of what I can and will do for you is not limited to this list. While I am not a therapist, I have a network of therapists and other community support professionals that I can refer you to if I am unable to meet some or all of your community support needs.
Why the "Dr."? Are You A Doctor? Why Aren't You A Therapist?
I am not a doctor of any kind or provide treatment. "D.R." are my initials, and in addition to the services provided, I am a comedian, and the nickname is also a reference to my YouTube psychoeducation channel. I am not a therapist, because I wanted to provide the services that therapists generally don't provide and mentor children and families in ways that expand beyond the scope of therapy, by helping build community and create solutions and be a direct part. Therapy is something that encourages people to take a look back into things like family of origin trauma – which is something that helps to be aware of when helping you – but the goal is to help you move forward in spite of the past, and help connect you with a therapist to treat the past struggles while moving you towards where you want to be now.
Our Professional Relationship
Regardless of the nature of my role in supporting you, you can be guaranteed uniform personalness and professionality. If and when desired, I discuss my personal experience as an autistic person and how it compares and contrast to your loved one's experience, and what you can do for them.
My Personal Story: Growing Up Autistic
I was formally diagnosed back in the 1990's back when it was still called "Asperger Syndrome." I have gone through special education most of my life, and I am familiar with the accommodations that I needed in order to be successful in my pre-college education, as well as my undergraduate and professional graduate education, and the support I benefit from during my field placements. Though I believe that most people meant well, I didn't always get my needs met. As an adult, I know what my needs are, what needs are common among the neurodivergent community, and just as well what individual people need; I have a strong intuition and I know what questions to ask to get to the bottom of presenting problems so that I can provide a solution.
Collaboration Is Key!
I have worked with various institutions including but not limited to Rutgers University, Rowan University, the National Association of Social Workers, and various other institutions to provide advocacy, support, and psychoeducation for the neurodivergent community and those who help them. I have also supported clinicians with their cases, teachers with their students, camps with their campers, school administrators in training their faculty and staff, and more.
Goals of Service
A stronger YOU!
A stronger, mutual understanding between you and others.
Less burnout.
More time for you.
Less bitterness. More motivation.
Better access and communication with other services (schools, therapists, social service agencies).
A better sense of what you want out of life.
Better dates.
Public Speaking
I also provide motivational speaking. Outside of being a comedian, I have been a public speaker for most of my career; from all around South Jersey and the Philadelphia area to all the way in Guangzhou, China. I provide Q&A style, webinars, and staff training.
Understanding what it's like to be autistic, and how you can be a supportive friend/partner/coworker/family member/teacher/therapist/mentor/advisor
Stress management
Caregiver burnout Q&A
Behavioral consulting
How to handle autism crises
Teacher, administrator, or clinician training
Being assertive
Dating & autism
And more!
Non-Clinical Support Groups
I provide non-clinical, non-psychiatric support groups for individuals and families. Groups populate based on needs, current group cohesion, and overall fit. Common themes in the past include: Self-care, caregiver burnout, building ourselves, and setting children up for success.
Credentials
Master of Social Work (MSW), Rutgers University
Bachelor of Arts (BA), Psychology, Rowan University
Bachelor of Arts (BA), Philosophy & World Religions, Rowan University
I do not have any form of therapeutic or clinical licensure at this time
More Information
I am a neurodiversity-affirming professional. This means I support neurodivergent people and do not expect them to change, but help them adapt as they are.
I believe self-diagnosis is valid.
I am a body-positive professional.
I am a polyamory-affirmative professional: which means I support consensually nonmonogamous individuals and relationships.
I am an LGBTQIA+ affirming professional. My pronouns are she/her, and I am a cisgender woman.
Other Links
– Autism Speech on 91.5 WDBK
– About Me
Facebook Page (Detailed Contact Info Here!)
Gmail email: asdquestion
NOTE: Email is the best way to reach me! Send me 2-3 dates and time frames in which I can reach out to you by phone and I will get back to you as soon as I can!
Note: I am an autistic MSW and comedian with the initials "D.R." I am not a doctor, psychologist, psychiatrist, etc. I do not provide therapy, clinical, or medical services. I deliberately chose not to separate my comedy website from my professional page because my work as a woman who remains in humorous spirits, regardless of how I am feeling, is part of who I am. In reflection of this, my comedy site will not be separated from my community services work.
Nothing on this page or website should otherwise be construed as medical advice or otherwise assumed to constitute a professional, medical, or otherwise therapeutic relationship.