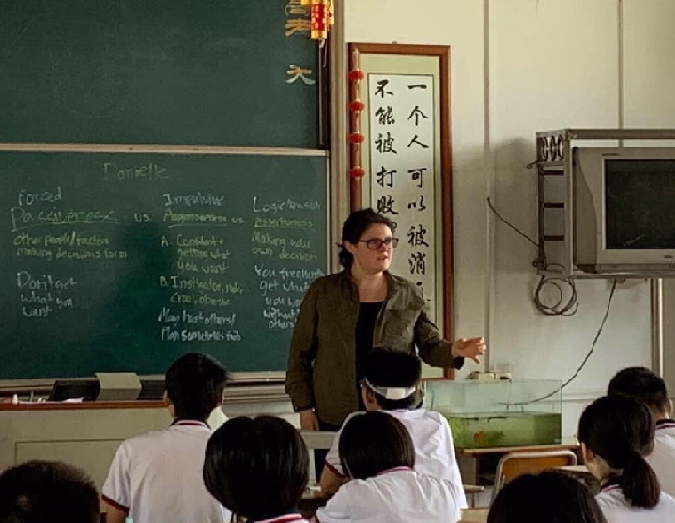 Motivational and Psychoeducational Speaking
I am a social worker in training. I am a current psychoeducator on YouTube, a stand-up comedienne, and a former radio DJ on 91.5 WDBK. I provide cultural competency education about autism, ADHD, and related conditions to administrators, providers, families, and shareholders, as well as individual and group coaching services. I have been a public speaker for nearly a decade, from all around South Jersey and the Philadelphia area to all the way in Guangzhou, China (see image above).
I do not just lecture about autism. The topics I cover include:
* Stress management
* What to do when ……
* "What does this mean?" and general autism education/Q&A
* Crisis Intervention Support
* Dialectical Behavioral Skills
* How to be real, but optimistic ("all vibes welcome here")
* And more…
Individual & Family Coaching Services
I am a Master of Social Work student with a bachelor's in both Psychology and Philosophy. I am informed by research, years of crisis intervention experience, traditional clinical social work, teaching, and general work with people with disabilities (especially ASD) professionally, and my own experience.
While I view autism as a gift, it can also come with challenges that may impede the gifts shining through. I know that it can be difficult living with someone different from you, but I also believe in setting families up to succeed and thrive happily, and plant seeds of hope for a bright future. I believe that anyone, with the right guidance, can lead a happy life.
No two people are alike, but I am able to relate well to the experience of being an autistic child because I was one, and am now an autistic adult. I believe we grow with autism, and grow strong either because of, or in spite of the trials we face as people with disabilities.
As a consultant, I give feedback on what certain behaviors communicate, and responses or interventions that can set the person and family up for success. I will share my own experience and translate what behaviors are intended to communicate, and how to intervene effectively and compassionately in situations of emotional crisis, without getting overwhelmed yourself.
My approach is stim-friendly – which means I don't wish to alter coping mechanisms, but rather to explain the value of them and help you or your family member advocate for their rights to exist in this world as-is, and follow the trail of acceptance, rather than chiseling yourself to fit a mold.
I have worked with various institutions including but not limited to Rowan University, the National Association of Social Workers, and various other institutions to provide advocacy and support to the autistic community.
If you have any further questions about my work or credentials, I welcome contact!
Facebook Page (Contact for Contracting)
Gmail: asdquestion
Last updated – September 21, 2021